Overview- Cederberg Community Hike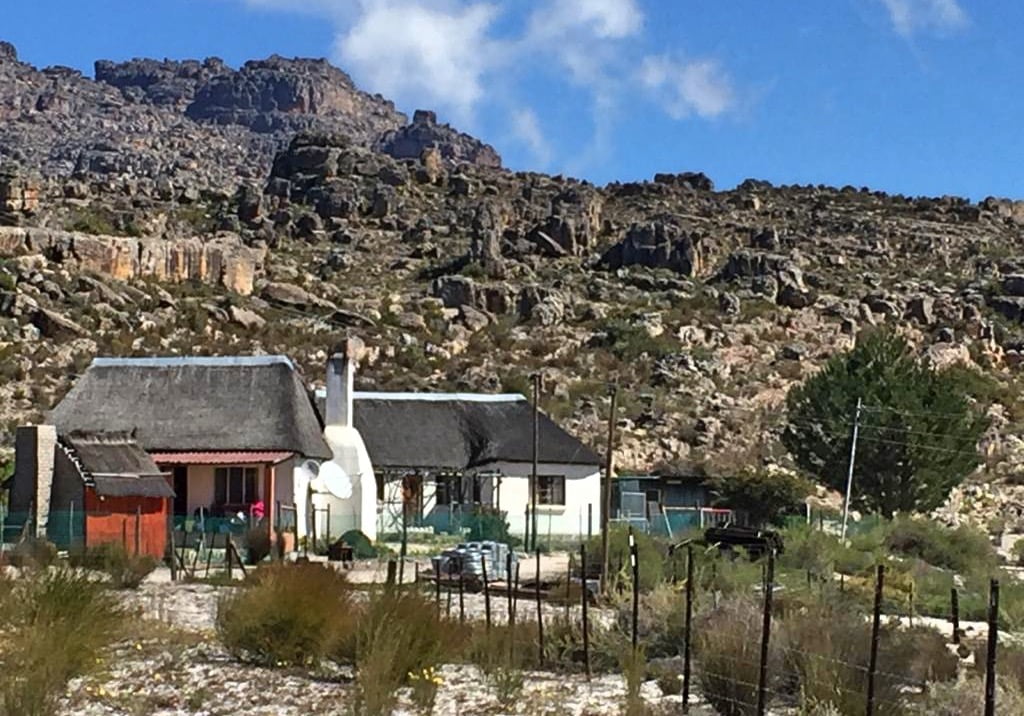 The 4 days/3 nights Cederberg Community Hike is in the northern Cederberg, about 250 km north-west of Cape Town. The area has a spectacular mountain landscape, is a treasure house of rock art and has a rich botanical diversity, being part of the Cape Floral Kingdom. A major portion is a proclaimed Wilderness Area that has World Heritage status.
| | | | | | | |
| --- | --- | --- | --- | --- | --- | --- |
| | | | | | | |
| Type | Escorted hike | | | | | |
| Location | Cederberg Wilderness, South Africa | | | | | |
| Group size | 1+ people | | | | | |
| Duration | 4 days (3 nights) | | | | | |
| Grading | Moderate | | | | | |
| Day Stages | About 14 km per day | | | | | |
| Distance | About 40 km | | | | | |
| Terrain | Mountain trails, tracks | | | | | |
| Accommodation | Cottages/chalets | | | | | |
| Meals | Breakfast & dinner incl | | | | | |
| Cost | From R6 850 per person | | | | | |
| Best dates | 1 July to 31 October | | | | | |
The hike is escorted by members of the local community. It includes accommodation, meals (excluding lunch packs), a rock art visit, donkey cart ride and entrance fees, where applicable. Accommodation will be comfortable guesthouses, guest cottages and one night at the small picturesque Moravian missionary settlement, Heuningvlei. Luggage are transported to the next night's stay. Hikers only have to carry day packs.
Highlights
The Cederberg landscape
Distinctive Cederberg landscape. Magnificent views and sunsets
Flora and fauna
Cape fynbos, endangered Clanwilliam Cedar, Cape Mountain Leopard, Baboons, Klipspringers, etc and more tha 100 bird species
Rock formations
This part of the Cederberg is particularly known for its impressive mountain landscape, rugged terrain and coloured rock formations. The area is very popular for rock climbing.
Rock art
The Cederberg is one of the best areas for ancient San (Bushmen) rock art in the world, with more than 2,500 discovered sites, a number of which are easily accessible.
Day 4 of the hike includes the opportunity to see beautiful examples of the ancient art on the easy walking 5 km Sevilla Rock Art Trail.
Cederberg community
The hikes are escorted by local community members. Stay one night in the small picturesque Moravian missionary, Heuningvlei.
Donkey cart ride
The itinerary includes a donkey cart ride.
4 days / 3 nights
Total distance 40km
Itinerary
Day 1:
Arrival Clanwilliam region for overnight
Day 2:
Self-drive to Kliphuis Campsite (Cape Nature) in the Pakhuis Pass where it is safe to leave your car. The walk for the day starts at the Kliphuis Campsite and ends at Krakadouw / Dwarsrivier. Descent for the day 950m, total ascent 393m.
Overnight Boskloof Distance 15 km
Day 3:
Krakadouw / Dwarsrivier to Heuningvlei via the Krakadouw Pass. The first section all along the Dwarsrivier. Ascent for the day 893m over the first 7.4 km to a total height of 1100m at Krakadouwpoort, thereafter descend 242m to the small community of Heuningvlei.
Overnight Heuningvlei Distance 12 km
Day 4:
Donkey Cart Trail from Heuningvlei to Kliphuis Campsite / Pakhuis Pass. Total ascent for the day 302m, descent 474m Distance 13 km.
Collect your car, then self-drive 13 km to Traveller's Rest to experience the Sevilla Rock Art Trail.
| | |
| --- | --- |
| Krakadouw hiking trail | Boskloof, Clanwilliam |
Your accommodation bookings will be rustic cottages/chalets and includes breakfast and dinner. Lunch packs to be arranged. Some areas will not have cell phone and internet reception.
| | |
| --- | --- |
| Klein Boschkloof | Heuningvlei |
Rates
Minimum 1 plus 1 person
From R6,850 per person sharing
Included: 
The hikes are escorted by local community members
Luggage transfers
3 nights accommodation
Breakfast and dinner
Guided rock art visit, donkey cart ride and entrance fees where applicable.
Electronic maps are available for users of navigation devices (gps and cell phone)
Not Included:
Items not mentioned above
Transport to and from Clanwilliam
Lunch packs and snacks for the walk (Lunch packs to be arranged previous day at guesthouses)
Drinks
Grading
Overall rating is "Moderate". You do not need to be ultra-fit but certainly able to walk between 12 and 20 km per day. The route takes you along paths, along field and tracks . See Walking grades for more details about Moderate rating.
Destinations to add to your trip
We recommend that you add some other attractions to compliment your visit to Cederberg. You can include other visits before or after the Cederberg Community Hike. We can assist with bookings and advice. The costs of these options are available on request.
When to do the Cederberg Community Hike
Bookings can be made throughout the year.  If you are flexible we recommend booking outside the school holidays and not over a weekend. The most beautiful time for hiking is winter and spring, the months of July, September and October. The botanical diversity is beautiful and there is water in the mountain streams which is drinkable and being cold very refreshing. Lovely clear rock pools for swimming. Summers can often unfortunately be very hot and unpleasant for long hikes. Mid-summer is not recommended for this particular hike.
Climate
The Cederberg has a great climate – hot summer days and mostly mild sunny days in winter with cold nights. During winter the higher mountain peaks do get snow with cold fronts coming over the Western Cape. Rainfall in the Cederberg ranges from an average of 800 mm per annum at Algeria to an average of less than 250mm/annum around Matjiesrivier, Cederberg Oasis, Nuwerust and Mount Cedar. The west of the Conservancy is mostly wet and cold during the winter while the eastern area is very cold with less rain. The most rain falls during winter between May and September. It often snows on the higher parts. Summers are very hot and dry and can reach temperatures as high as 40° Celcius.
Getting there
The Cederberg is in the Western Cape Province, South Africa. It is about 200 km 2½ hours drive from Cape Town.
For international visitors:
Fly to Cape Town International Airport and from Cape Town to the Cederberg by car.
Route from Cape Town:
Take the N7 (Cape Namibia road) Continue for.... km to the Clanwilliam turnoff
When we confirm your booking more details will be given as well as suggestions about places to visit along the way from Cape Town
What to take
Comfortable, well aerated clothes in keeping with the season. Always bring a thick windbreaker/jacket, good walking boots (already worn-in) and several pairs of cotton or wool socks. For your daily needs, you are advised to have a day-bag, a plastic bag to line your day-pack (to protect the contents from rain), rainwear, a sun-hat, sunglasses, sun block, a water bottle, plastic picnic boxes, personal first-aid kit, camera, torch/flashlight and an extra plastic bag for litter,hiking stick, insect repellant.
Insurance
We recommend that you arrange appropriate holiday insurance giving you cover against illness, injury, and loss or damage to luggage. This insurance should also cover the possibility of your having to cancel your holiday for any reason.
Availability and Booking
To enquire or reserve a date, go to: Availability request
For general information: Contact us, or
email: info@trailsandtravel.co.za, or
Booking process and -conditions - Go to  How to book
Map
Gallery
Pictures of Cederberg can be viewed in Cederberg Community Hike Gallery
Reviews
Comments by guests who have experienced a self-guided walking/hiking holiday offered by WalkingHolidays.co.za in South Africa-
"Overall, the holiday was invigorating-  You certainly went out of your way to make the whole time memorable- We are recommending it to our walking community in the States- Fantastic walks, wines and accommodation"
For details, go to Reviews
More about Cederberg
Cederberg Community Hike is a unique hiking experience. For more information about Cederberg area, go to Read more
Go back to the top of the page